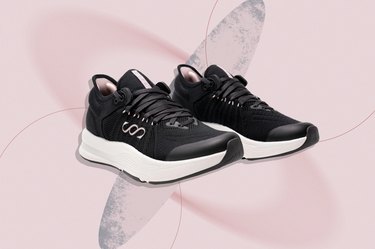 As a certified run coach, four-time marathoner and 11-time half marathoner, I've tried ‌a lot‌ of different running shoes during my training. Shoes for tempo runs, long runs, track workouts, racing — the list goes on.
There are so many shoes on the market these days that it's easy to feel overwhelmed by all the choices. You're probably more familiar with big-time brands like Nike, Hoka and Asics (to name just a few), so a brand-new running shoe with an unfamiliar name may feel like a bit of a risk.
Without naming names, I've also seen (and tested) shoes created by brands who've veered out of their usual lane to try and compete, resulting in running shoes that have been a flop.
But if there's anyone to do it and do it well, it's elite runner Allyson Felix. She's the most decorated track and field athlete of all time with 11 Olympic medals and 20 World Championship medals. So, I trust her to make a shoe that can deliver serious results.
She created her brand Saysh in 2021, which designs running shoes for women, by women. And a new model has just been released: The Felix Runner.
Features and Functionality
There are a few criteria I look for when I'm trying out a new running shoe: comfort, support and feel when I strike the ground. I have neutral arches and narrow feet, so I like when a shoe hugs my foot to make me feel secure.
The Felix Runner is a neutral running shoe designed for everyday miles. As soon as I put them on, I could tell how extremely comfortable they are with a generous amount of cushioning. As an endurance athlete and coach, cushioning is key for me because I log many miles and spend a lot of time on my feet.
The cushioning is soft and supportive, but solid enough to keep you from sinking into the ground. The shoe offers total support, locking in around your ankles, mid-foot and soles of your feet. Once I laced them up, I was ready to hit the pavement.
I tested The Felix Runner shoes in three different workouts to give myself (and the sneakers) some variety — a 10-mile long run, 800-meter repeats and a hill workout. I was pleased with how supported I felt with every step. My feet never felt tired or aching to get out of the shoes.
The only issue I experienced was with the shoes's laces. They're shorter and a little stiffer than what I'm used to, and at one point they came undone in the middle of a run. After pulling them tighter and double knotting them, they stayed in place just fine. But if there was anything I could change about these shoes, I'd advocate for longer laces.
On long runs, The Felix Runner was perfect for aerobic pace miles that required a lot of time on my feet. For hill workouts, they felt supportive and sturdy enough to help me climb those hills with power.
But for tempo workouts (moderate- to hard-intensity training runs), I'll admit they did feel a ‌little‌ heavier than I would have liked and didn't offer much help with leg turnover. Don't get me wrong, that's not necessarily a bad thing. There are different shoes built for different purposes, and The Felix Runner is specifically marketed as an everyday running shoe that is comfortable, responsive and supportive. Check, check and check!
Get Your Own Pair of the Saysh Felix Running Shoes
Overall, I'm more than happy with how these sneakers perform for the majority of the training I do. They're durable, supportive, comfortable and stylish.
By the way, The Felix Runners come in three colors: Avalanche (cream), Ebony (black) and Fire (red/orange). They're officially in my shoe rotation for long miles, recovery miles and even walking. If you're looking for a shoe that will keep your feet comfortable for all-day wear, The Felix Runner could be it.
Oh, and a pretty cool bonus for all parents and future parents: Saysh has a maternity return policy, which offers a free, fresh pair of sneakers if your foot size changes. Once again, it's Allyson Felix for the win. Is there a medal for that?
More Running Gear We Love