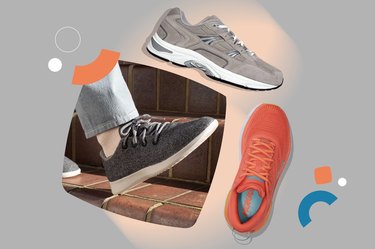 If you've got a hammertoe, you know just how bothersome it can be. And you've likely realized that choosing the right footwear is key to managing the condition.
Here's what causes this foot problem and how to choose the best shoes for hammertoes.
Hammertoe is marked by an abnormal bend in one of the toes (most often not the big toe), as a result of an imbalance of the small muscles, tendons and ligaments that keep the toe straight, says Jackie Sutera, DPM, podiatrist and Vionic Innovation Lab Member.
"A very common cause of this condition occurs from imbalances resulting from foot structure, such as when the second toe is longer than the great toe, as longer toes tend to jam into the toe box while walking and running and eventually will cause hammering," Dr. Sutera says. "Injuries, such as broken, stubbed or jammed toes may be more likely to develop hammertoe."
Unfortunately, genetics may play a role as well, as people with inherently flat feet or a high arch are also more prone to hammertoes, according to the Cleveland Clinic.
A hammertoe can also develop over time as a result of certain lifestyle choices, such as overuse of tight shoes or high-heeled shoes for long periods of time, and long periods of standing and walking in heels, Dr. Sutera notes. "This type of shoe wearing can cause the toes to become bent and contracted."
The good news: Most often, choosing the right shoe can make a world of a difference. Here, podiatrists reveal the best shoes for hammertoes.
The Best Shoes for Hammertoes
We reached out to four podiatrists, who offered product recommendations and broke down what to look for in shoes that can help with a hammertoe. We selected these products based on their criteria, including:
Fit
Comfort
Extra depth
Spacious toe box
More more information on how we choose and cover products, click here.
Men's vs. Women's Shoes
Although hammertoes can affect men and women, the foot shape often differs between the sexes, notes Najwa Javed, DPM, podiatrist with Silicon Valley Podiatry Group and founder of E'MAR Italy. "Women tend to have an overall narrower, shorter and thinner foot versus their male counterparts, while men will have wider, bulkier and deeper shoe shapes than women," she says. "When women cannot find a wide enough shoe, podiatrists will usually recommend that they buy a men's shoe instead to give them the space they need."
Thanks to a lightweight knit upper material, these shoes offer ample room for a hammertoe without limiting movement and causing irritation. They also feature the classic NAOT footbed, which Tim Oldani, DPM, podiatrist at Missouri Foot and Ankle in St. Louis, notes provides pressure relief under the metatarsals, or the foot bones that sit just behind the toe.
2. ​Vionic Classic Walker
All of Vionic's shoes feature excellent support, whether you're engaging in physical activity or staying stationary on the couch or behind a desk. Their activewear features their Active Motion System (AMS) technology that consists of an orthotic to alleviate pressure often associated with foot conditions such as hammertoes.
These shoes are made from a flexible material that's also breathable, sweat-wicking and easy to clean with a simple washcloth (it's not recommended to toss these shoes in the wash). They're also durable and long-lasting, thanks to a rubber outsole and thermoplastic heel.
​3. OrthoFeet Stretch Knit
Designed to enhance the comfort of patients with myriad medical conditions, from back pain and arthritis to bunions and, of course, hammertoes, these shoes are a top choice among podiatrists looking to relieve their patients' discomfort.
Thanks to their premium orthotic insoles, they give the right kind of support, and their wide toe box helps alleviate the pressure often associated with a hammertoe.
"These shoes have extra depth in the toe box and a stretchable knit fabric upper to reduce irritation of hammertoes," Dr. Oldani says.
For a running shoe, this pair has one of the most spacious toe boxes with added depth on the market, plus a forefoot rocker that helps reduce the gripping of the toes, Dr. Javed notes. They're packed with a ton of cushion to provide support as you click miles and are lightweight enough to not make you feel weighed down during your run.
Although these shoes are designed specifically for running, Dr. Javed points out that they can be useful for just about any activity for someone with a hammertoe.
​​With a contoured upper design made of Merino wool, these stylish and comfortable shoes can accommodate even the worst of hammertoes, according to Dr. Javed.
Thanks to their wool material, they naturally regulate temperature, preventing your feet from becoming too hot or cold. They're also ethically sourced, featuring laces that are created from recycled plastic bottles and insoles created from castor bean oil.
They're also super lightweight, so you won't feel tied down like you might with a heavier shoe.
6. Orthofeet Quincy Stretch
These comfy shoes feature a roomy toe box and extra depth, so your toes have plenty of space. The upper material is soft and flexible, too, and you can choose from four different widths: narrow, medium, wide and extra-wide. These features mean there won't be any pressure on your hammertoe, even if you wear these shoes for extended periods of time.
Plus, removable insoles mean you can add custom orthotics if you choose, for an even more comfortable fit.
These sandals seem to pop up on just about every "best shoes" roundup, but for good reason: They feature an anatomically shaped footbed with a foam layer that lends support and comfort all in one.
The sandals come in two different widths — medium and wide — and the straps are adjustable, so you can find the most comfortable fit for your feet and plenty of space for your hammertoe.
8. Orthofeet Delta Hiking Boot
These hiking boots strike the right balance between being structured enough to stand up to the rocks and rubble of a hiking trail while also being soft and flexible enough to allow your toes to breathe and wiggle around.
They feature a wide toe box and come in three different widths: medium, wide and extra-wide.
Plus, OrthoFeet offers a 60-day wear test, meaning you can try them out risk-free and return them if they don't work for your feet.
What to Look for in Shoes for Hammertoes
Here are a few features to keep in mind when shopping for the best shoes to relieve the symptoms of a hammertoe.
The best fitting shoes for people with hammertoes are ones that have wide, extra-depth, soft toe boxes, Dr. Javed says. "This allows for the toes to bend and rub against the material without causing blistering," she adds. "If the toe box is narrow, the toes will become chaffed and blisters or corns can develop, which can irreversibly scar the skin."
She recommends sizing up half a size to help ensure you have this extra room.
"Hammertoes will eventually wear through leather and cause holes in your shoes. Therefore, buying materials that are easily stretchable will help give the shoe longevity," Dr. Javed says. "Adding stretching spray over prominent areas can also help to soften material without wearing it down."
She recommends avoiding synthetic leather if possible, because it does not conform well to bony protrusions.
When seeking out shoes that can help with a medical ailment such as hammertoe, it's a good idea to invest in a quality product. "For athletic shoes, the budget is about $140 to $180, for sandals around $80 to $130 and for heels around $200 to $400," Dr. Javed says.
It's important to care for your shoes to ensure that they last the appropriate amount of time — a year or so, according to Pedram Hendizadeh, DPM, podiatrist and foot surgeon at Advanced Podiatry in the greater New York area.
"Give them a thorough clean-up job every two to three weeks to not only keep them visibly clean, but also rid them of bacteria, fungus and other microorganisms left over from all that daily sweat," he says.
What to Avoid in Shoes for Hammertoes
The list of features to avoid is, as you might guess, pretty much the opposite of what to look for:
Narrow toe box (think: pointed-toe shoes, or any shoe that cramps your toes)
High heels (which tend to put added pressure on your toes)
Low-quality materials that wear through quickly
What Else to Know Before You Buy
To make sure you buy a comfortable pair of shoes that will help with your hammertoe, follow these additional tips from the Mayo Clinic:
‌Measure your feet:‌ It's crucial that you buy the right size shoe — a shoe that's too small can put pressure on your toes and make hammertoe worse. Your feet can get bigger as you age, so don't take your size for granted. Instead, measure both of your feet before you make a new shoe purchase.
‌Try on shoes at the end of the day:‌ Feet tend to swell throughout the day, so they'll likely be biggest in the evening. That's the best time to head to the shoe store or try on a new pair of kicks to make sure they're a good fit for your feet.
Is this an emergency? If you are experiencing serious medical symptoms, please see the National Library of Medicine's list of signs you need emergency medical attention or call 911.