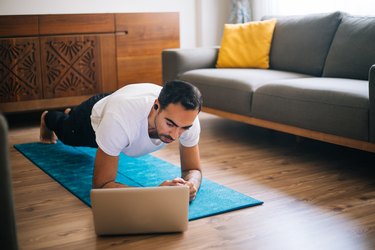 The plank is one of the most popular and effective exercises to strengthen your core, as well as your shoulders and back. But even though you're only using your body weight, it can be a surprisingly difficult move.
"There are many reasons why someone may not be able to do a plank with good form or at all," says Joey Thurman, CPT, personal trainer and nutrition expert. "This could be weak lower back muscles, weak abs (especially the transverse abdominals), overactive muscles and even limited shoulder strength."
The plank is an isometric exercise — meaning one you hold in place — that strengthens all your core muscles at the same time, says Harvard Health Publishing. In contrast, sit-ups only work a portion of your muscles and can put undue strain on your neck and lower back.
Strengthening your core is important in helping prevent back injuries and pain, as these muscles provide stability to your spine. If your core muscles are weak, your body will compensate in other ways resulting in potential back pain and injury. Try these trainer-approved tips and exercises to get you on the right track to perfecting your plank form.
5 Exercises to Help You Improve Your Plank
The following five exercises will build up the strength you need in your core, shoulders, back and legs to be able to perform a perfect plank. Bonus: They'll also help you build the strength needed to do many other exercises, including burpees and push-ups.
1. Hollow Hold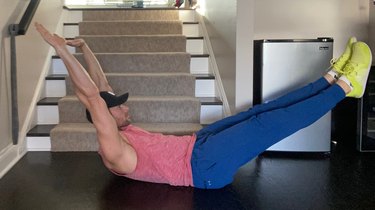 Activity
Body-Weight Workout
Lie flat on your back, legs extended straight out and arms over your head.
Squeeze your ankles together, while also squeezing your arms in toward your head.
Press your back into the floor as your raise your arms and legs off the floor in a C or half-moon position.
You can hold in this position or do a slight rocking motion.
Hold for 10 to 30 seconds, keeping your muscles tightened.
Repeat 3 to 5 times.
2. Static Beast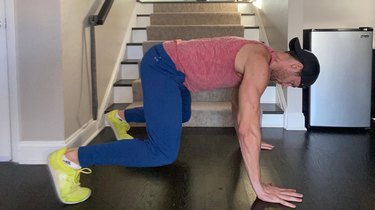 Activity
Body-Weight Workout
Start on all fours, hands under your shoulders and knees under your hips.
Lift your knees off the floor one inch. You'll be resting on your hands and toes.
Keep your core engaged think about pulling your hands in feet in toward one another to build tension.
Hold for 10 to 30 seconds.
Repeat 3 to 5 times.
Tip
"Think of this as a modified plank where you can practice keeping the tension on your abs," Thurman says. "Think about pulling your elbows toward your knees and your knees toward your elbows. This will cause your abs to shake in a good way!"
3. T Superman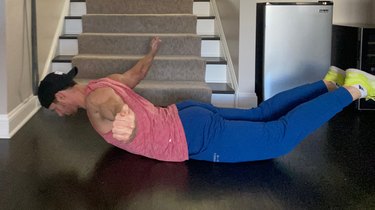 Activity
Body-Weight Workout
Lie on your stomach with your legs extended out straight.
Place your arms out to the side in a T position with thumbs up the ceiling.
Slowly raise your chest, arms and feet off the floor.
Hold for 5 seconds, then lower back down to the floor.
Repeat for 2 sets of 12.
Tip
"This exercise strengthens your lower back as well as your upper and mid back to help hold that plank," says Thurman. If you need to modify, you can start by just raising your arms, then progress to both arms and legs.
4. Single-Leg High Plank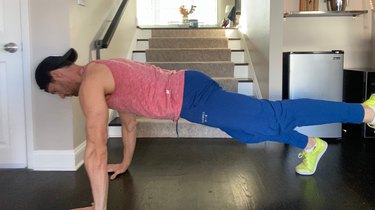 Activity
Body-Weight Workout
Start in a high plank, with your hands under your shoulders and your body in a straight line from head to hips to heels.
Raise your right leg off of the floor until it's at hip height and in a straight line with the rest of your body.
Hold for 3 seconds, then set that foot down.
Repeat with your left leg.
Aim for 10 reps on each leg, taking breaks as needed.
Tip
The high plank is easier on your core than the forearm plank, so adding a single-leg move will get you ready for the forearm plank. "Doing the plank with one leg elevated will help you have more trunk control," Thurman says.
5. Core Stabilization Exercise With Band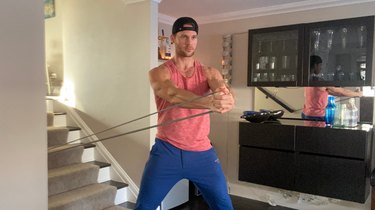 Activity
Resistance Band Workout
Secure a resistance band to an anchor point at about chest height.
Stand away from the anchor point, holding the band at your chest.
Keep your feet shoulder-width apart, as you slowly press the band away from the secure anchor point until your arms are straight.
Hold the band at full extension for 15 seconds.
Keep your torso straight ahead and don't let it rotate. Keep your hips and shoulders straight ahead. You'll feel your core tighten.
Return to the starting position and repeat 15 times.
Turn around and repeat on the other side.
Tip
This exercise, also called the band Pallof press, uses a resistance band to work your muscles in a way that strengthens the main core stabilizers. There isn't much movement in this exercise, but you will feel it working your core.
When building core strength, the high plank is a better starting point than the forearm plank. "The high plank is easier than the forearm plank as there is less force of gravity on your core," Thurman says. Here are the basic steps to perform a standard plank:
High Plank
Activity
Body-Weight Workout
Start on all fours, then extend your legs out straight behind you. Your hands should be under your shoulders, and your body should be in a straight line from head to hips to heels.
Tuck your toes and contract your glutes, quads and core as you press through your hands.
Keep your body in a straight line; don't let your midsection sag down or bow up.
Keep your neck in a neutral position in line with your back.
Tip
While the standard plank is easier on your core, it's more challenging on your shoulders. If you're unable to do the high plank, switch to the forearm plank, resting on your forearms instead of your outstretched arms, to see which version allows you to maintain better form.
It's important to have core and upper body strength to perform the plank, but also the right form.
"To hold a plank is one thing, but to actually do it right and ​feel​ your abs working is another," says Thurman, who recommends really focusing on contracting your abs and putting tension on your core. "A high-tension plank will truly light up those abs."
Thurman also recommends keeping a slight bend in your knees to give you a better base, as well as bringing your shoulder blades together to allow your back muscles to provide more stability.
Also focus on keeping your pelvis tucked. "Squeeze your butt and drop it down just a little to go into a slight posterior pelvic tilt to engage your transverse abdominal muscle and draw your belly button up towards your spine."
Lastly, don't forget to breathe! It's important that you don't hold your breath.
Was this article helpful?
Thank you for your feedback!